About the owners of
The Cliffs at Princeville 7301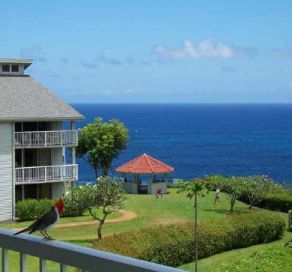 The Cliffs 7301 is located in Princeville, on the beautiful island of Kauai, Hawaii.
Go-Kauai.com was created and is maintained for the sole purpose of informing interested parties about this privately-owned oceanfront vacation condominium, which is rented directly by its owners.
The Mellema family of Southern California has owned and enjoyed this North Shore Kauai property since 1985.
Every effort has been made to describe and illustrate the condo in a realistic way, so visitors to Go-Kauai.com can make an informed decision about whether this particular Kauai condo is well suited to their vacation accommodation needs and preferences.
Over the last few years, our Internet rentals have worked out very well, with guests from far and near relishing the grandeur and tranquility of Kauai from this beautiful and comfortable home.
You can read comments from former guests on our Guest Comments page.
---
The condominium is a part of The Cliffs Resort, a large five-star resort complex, and is located at the following address:
The Cliffs at Princeville, Unit 7301
3811 Edward Road
Princeville, Kauai, HI 96722
A Booking Request form is included to facilitate the reservation and booking process. Completing this form will expedite the owner's ability to respond appropriately and quickly. Replies are generally sent by email within 24 hours, but may be slightly delayed at times when the owners themselves are traveling. The form is for reservation requests, and in no way guarantees that The Cliffs at Princeville 7301 will be able to fill that request.
The information contained in the web site may change from time to without notice. Questions or comments about the information contained in the web site may be addressed to inquiry@go-kauai.com.