Directions to The Cliffs at Princeville 7301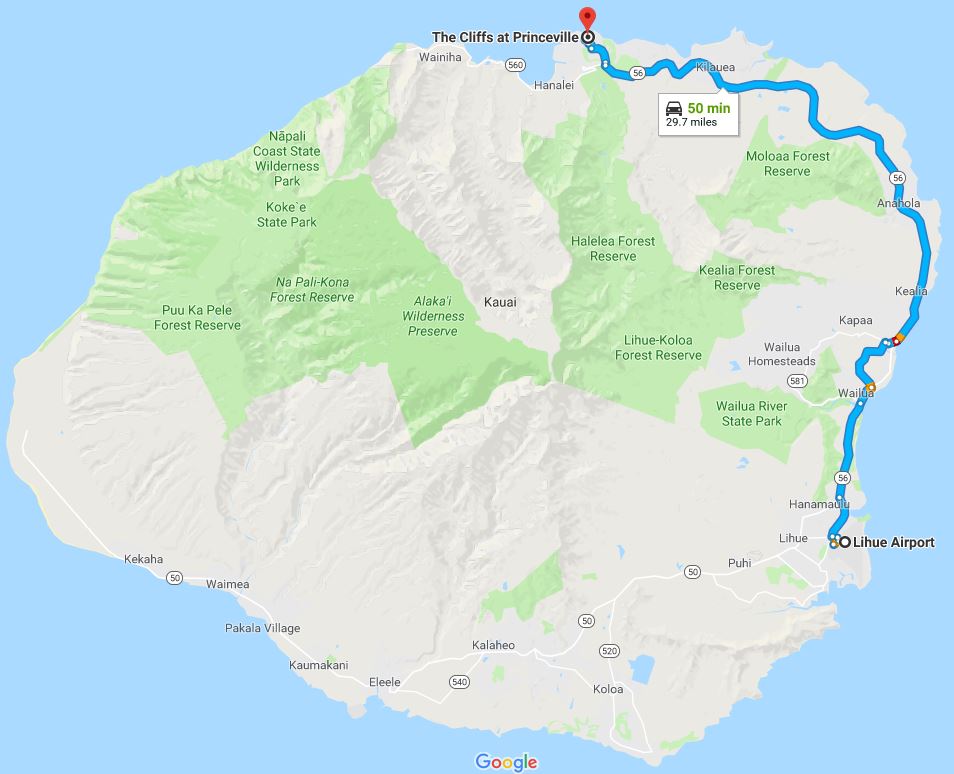 All flights to Kauai go into the Lihue Airport.
Princeville is about 30 miles from the airport, a beautiful and easy drive that normally takes about 50 minutes.
Most major car rental agencies are at the airport.
If you have a GPS, enter 3811 Edward Rd, Princeville, HI 96722.
As you exit the airport, turn right and follow Route 56 (called Kuhio Highway) towards Kapaa.
In a few minutes you will pass over the lovely Wailua River, and then through the business district of Kapaa Town.
Enjoy the spectacular beach views and lush tropical forests as you drive from Kapaa to the charming town of Kilauea.
About 4 miles past Kilauea, you will pass the small Princeville airport on your left. Shortly after, you will see the beautiful Prince Course, one of Princeville's championship golf courses, on your right.
Stay on the highway past the golf course entrance, watch for the Princeville main entrance road between two stone-wall fountains on your right.
Turn right into Princeville and follow Ka Haku Road to Pepelani Loop.
Turn right on Pepelani Loop.
Turn right again on Kaui Road (at the sign for The Cliffs and Ali'i Kai).
Turn right once more on Edward Road at The Cliffs entrance.
To register, park at the Front Office – on your right as you enter the complex, across from the recreation building and tennis courts.
Princeville
To activate the Google map of Princeville click here or anywhere in the image below and a new map window or tab will open.
Closing that map window or tab should return you to The Cliffs Directions page in Go-Kauai.com.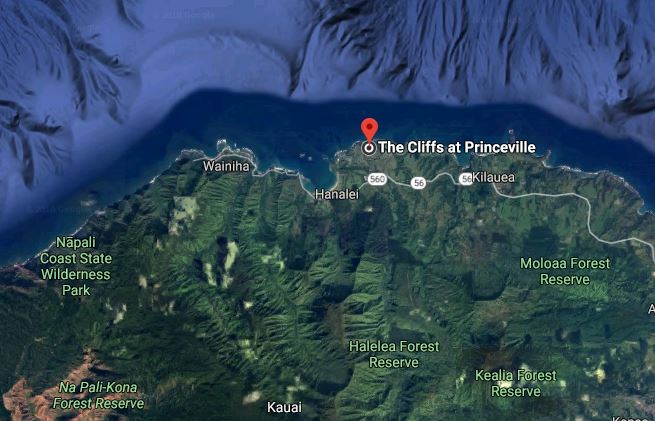 ---
This is a great place to stay on the North Shore. The condo is wonderful and in a great location in the Cliffs complex and has beautiful views. The unit is furnished very nicely and makes for a very comfortable stay. The Cliffs complex has a great large pool area complete with waterfalls and jacuzzis. Very tropical setting! Looking forward to returning. This condo really is a great place to stay. The owners are very nice and great to deal with.
---