Frequently Asked Questions about
The Cliffs at Princeville 7301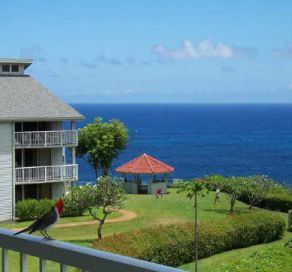 These FAQs are intended to answer some of the common questions that our guests at The Cliffs at Princeville 7301 ask.
If you have any questions not on the list, contact us at inquiry@go-kauai.com.
When is full payment due for the rental?
We request a (non-refundable) deposit check of $200 per rental week at the time a rental agreement is made to secure a reservation. Payment of the full remaining balance is due no later than 30 days prior to check in. The Availability Calendar on this web site is kept up to date. We generally accept bookings on a first-come, first-serve basis.
Do you accept credit cards?
No. Ours is a family-owned condo and we are not set up to handle credit cards. If you are not comfortable sending us a check we can refer you to our property management company to book the unit, but the rental price will increase slightly for this service.
---
What should we pack for our Kauai vacation?
The style on Kauai is island-casual. At most Kauai restaurants shorts and flip-flops are acceptable, but a few of the upscale restaurants do have a dress code. Kauai is famous for its beautiful but stubborn red dirt, which rarely washes out of clothing. Therefore, we recommend leaving your finer clothing, shoes, or new hiking boots at home. You will want to pack lightweight, comfortable attire (preferably in fabrics that "breathe") for your activities – swimsuits, shorts or crops, T-shirts/tanks, casual sundresses, hiking or tennis shoes, water shoes, sandals, sunscreen, a hat, maybe one cotton sweater and a light windbreaker for evenings, and of course, your camera! If you plan on hiking the Na Pali coast, bring some old, sturdy tennis shoes, and if you go up to the viewpoints at the top of Waimea Canyon you'll want that windbreaker!
What is the climate like on Kauai?
The beautiful, tropical climate of Kauai bathes you in ocean breezes with an average year-round temperature of 75 degrees Fahrenheit (about 24 C), plus or minus eight degrees. Tropical rain showers do occur, but are necessary to feed Kauai's lush jungles, giving it the name "The Garden Island." Many of the showers occur at night, but if you encounter a daytime storm keep in mind that each of the islands has a dry side. If it is raining in Princeville, you might want to drive down to Poipu for the day.
Is the ocean water warm?
Well, it's not as warm as the Caribbean, but it's not bad. The water temperature around the island stays between a warm 72 and 80 degrees Fahrenheit (22-26 C).
---
How do I get to the island of Kauai?
Lihue Airport is Kauai's only commercial airport. Non-stop flights are available from San Francisco, Los Angeles, and Phoenix. Those arriving by private jet will also fly into Lihue. Alternately, you may fly into Honolulu and take a 20-minute flight to Lihue.
How far is the Lihue airport from the North Shore of Kauai?
The Lihue Airport on Kauai is approximately 45-60 minutes' drive from the North Shore. Traffic is a bit unpredictable on the one and only road around the island, but it's a beautiful drive! The airport abbreviation is LIH. We provide driving directions.
Should we rent a car, take a taxi, or is there bus service on Kauai?
We strongly suggest renting a car for your stay on Kauai. There is SO much to see and do around the island. All the major rental car companies are available at the Lihue Airport. There is taxi service on Kauai, but rates to the North Shore from the airport run about $100-130. Kauai also has bus service. "The Kauai Bus" runs daily but rather infrequently and with only a few stops on the North Shore.
---
What about the keys and directions to the condo?
We'll mail detailed instructions to you when your reservation is confirmed. Once we have a rental agreement and reservation deposit, your name will be on our guest list so you can check in easily at The Cliffs Resort Front Desk. Driving directions are available via this link and will be included in your confirmation mailing.
Is maid service included?
No, Maid Service is not included in our weekly Kauai vacation rentals. We keep basic supplies for light cleaning in the unit. You are welcome to arrange a cleaning visit by the Housekeeping staff at any time during your stay. Fresh towels and sheets are included. Contact the front desk for price and scheduling.
Are cribs, roll-aways, etc., available?
There is a company on the island that provides a crib rental service. Let us know if you need this and we'll tell you how to contact them. Arrangements should be made in advance. For older children and adults, the existing beds in the condo will comfortably sleep five (or for families with kids even six) people.
Are linens, towels, cooking equipment supplied?
Yes, the condo is equipped with adequate bed linens, bath, and beach towels, and all of the cooking equipment to prepare and serve complete meals. A list of appliances is available on this page.
Does the condo provide beach-gear, snorkel gear, or bikes?
We leave some beach gear in the condo for guests' use – mats, chairs, boogie boards, sand toys and one or two snorkel sets. Good snorkel gear is available for rent at several places in nearby Hanalei Town. The Cliffs resort has a bin full of beach mats available for loan, and also few bikes for rent — ask about these at the front desk. Guests are also welcome to check out equipment for tennis, shuffleboard, and basketball at the front desk.
Can we find books to read at the condo?
Yes. There is a free "book exchange" library in the recreation center at The Cliffs with lots of recent books available. Guests are welcome to take a book and encouraged to leave one in return.
Do you arrange wedding/events?
No, we don't do that, but there are services on Kauai that you can contact. Let us know if you need help.
Is there Internet access from the condo?
There certainly is. Wifi service in the unit is free of charge for our guests. Access codes are available when you check in at the reception desk. In the condo, you'll find a desk in each bedroom, or you can set a laptop wherever you wish. If you don't choose to bring your own computer, there are computers you can use for a modest fee in The Cliffs front office area.
Can we make free local calls from the condo?
Yes. We are on the resort phone system, and guests may place local calls (anywhere on Kauai Island) at no charge. Please use a cell phone or a calling card for long distance calls. Instructions for the phone and voice mail are on the face of the telephone in the living room. If you book the unit, we'll give you the phone number to leave with family and friends before you go.
Do cell phones work on Kauai?
Yes. Cell phone reception is good in Princeville, Lihue, and most of the other towns on the island — at least we know that's true with Verizon, AT&T and T-Mobile. On the other hand, if you're on a beach behind a rocky cliff somewhere, your phone probably won't get a signal. But isn't that why you go to a faraway island? Oh, be sure and remind friends and family who might call you that there is a significant time difference (see below).
Do you get the normal television channels in Kauai?
Yes. The condo has cable TV service and gets the normal channels. Keep in mind that there is a significant time difference (see below) if you are hoping to catch sports events or your favorite shows.
---
Where is the nearest grocery store?
Foodland market in the Princeville Shopping Center. If you're going to be here long enough to shop for groceries several times, ask for a "Makai Club" card or pick on up at the Front Desk. You'll get good savings that way. In Hanalei there is a Big Save in Ching Young Village and Papaya's (a natural food store; primarily organic produce). There is a Safeway, Big Save, and Foodland in Kapaa, as well as a WalMart, CostCo, Star Market, etc., in Lihue.
Where can you buy fresh produce on the island?
Kauai has excellent outdoor Farmers' Markets — definitely the places to buy locally grown fruits and veggies. You can find one almost any day of the week if you know where they are. The local "low acid" pineapples and the "sunrise papayas" are especially good. If you book our condo, we'll include a schedule with times and locations of the markets in your confirmation packet.
Where is the nearest "nice" restaurant?
The Hanalei Dolphin for steaks and seafood is our all-time casual dinner favorite – a bit pricey. (Check out the fish market in the back of the restaurant building too!)
Postcards Café — excellent, especially if you like natural foods or vegetarian meals.
CJ's in Princeville has good steak, prime rib, and fish entrees and a nice salad bar.
Hanalei Gourmet — good burgers, salads plus nice dinner entrees (lively atmosphere).
Scotty's Barbecue on the beach in Kapaa has good food and a great ocean view.
Sushi and dinners at Kintaro Japanese restaurant in Wailua are excellent.
The Bull Shed — on the water in Kapaa. A locals' favorite for beef and seafood. Not fancy.
Caffe Coco in Wailua (across from Kintaro) — outdoor dining, interesting good food, live music.
Josselin's Tapas Bar and Grill in Poipu's new Kukui'Ula Center has superb food (small plates) and Jean-Marie Josselin (formerly at Pacific Café in Kapaa) is said to be the best chef on Kauai.
The Beach House in Poipu has excellent food and a priceless ocean view — for a special evening.
The restaurants in the St. Regis Hotel are excellent, very expensive, and have a dress code but offer a terrific sunset view.
Where are the nearest less expensive restaurants?
Polynesia Café in Hanalei's Ching Young Center; eat outdoors, excellent food & Lappert's too.
Neidi's – small Brazilian/Mexican place the brown building in Hanalei (inland side of road).
There are three small, casual restaurants in Princeville Center with reasonable prices: Paradise Bar and Grill, Federico's Mexican, and Tamarind Thai.
If you have a yen for a good burger, check out Bubba's in Hanalei or Kapaa. Their memorable slogan is "we cheat tourists, drunks, and attorneys".
Java Kai in Hanalei offers superb fresh-ground coffee and good pastries.
Where is the nearest McDonalds?
Kapa'a.
Where is the nearest church?
What denomination? There are several in the area, including Church of the Pacific in Princeville (United Church of Christ — near the Princeville Stables) and Saint William's Catholic Church in Hanalei. Your best bet is to Google the town name and your denomination.
What are the closest beaches?
For snorkeling, diving, or just swimming and sunning? There are several great snorkeling/swimming beaches in the area, and more on the rest of the island. Queen's Bath and Sealodge beaches are fairly close, even within walking distance if you like to walk. However, it is easier to drive if you are bringing any gear. Hideaways is great, but fairly challenging to get to. The Pu'u Poa Beach at the St. Regis Hotel is really quite nice. Tunnels and Ke'e, down the road past Hanalei, are also great. Find out more about beaches on our beaches page. Beaches are less crowded in the morning, so if you get out early you are more likely to find a parking place. One caution: even the most beautiful of beaches can have dangerous rip-currents, and surf around the island can be very high especially in winter. Safety advisories about specific beach areas should be taken very seriously even if you are a strong swimmer. If you get caught in a rip current some experts advise that you swim out of the current in a direction following the shoreline. When out of the current, swim at an angle – away from the current – towards shore.
Are there sharks?
Yes, but we've never seen any near Kauai. However, if you're looking in the right place at the right time, you may see sea turtles, dolphins, whales (in winter months), and Hawaiian Monk Seals (an endangered species that sometimes bask in the sun on beaches). And if you snorkel, of course you'll see a dazzling array of tropical fish in countless shapes, sizes and colors.
---
What should we be sure to see?
That depends on your likes and dislikes, but I'd be sure to schedule a day trip to see Waimea Canyon. I'd also schedule a visit to the beaches in the Poipu area. And you might want to plan a boat trip along the Na Pali coast. It was more convenient when the tours left from Hanalei, but due to environmental concerns most now leave from Port Allen. Morning trips are generally less rough. Be sure to spend some time wandering around Hanalei. If you are adventurous there is zip lining and horseback riding in the area. Most of what we enjoy is on the North Shore, like Ke'e Beach, Tunnels, and Pu'u Poa Beach for snorkeling, Kalihiwai Beach for boogie boarding, etc. Other highlights are the Kilauea Lighthouse National Wildlife Preserve, Limahuli National Botanical Garden near Haena, and Na Aina Kai Botanical Gardens near Kilauea, and Allerton Gardens Tours near Poipu. The Spouting Horn in Poipu is also a great short stop — you can often see sea turtles there and the jewelry vendors in the park are fun to visit for reasonably priced gifts and souvenirs!
---
Is there a time difference?
Yes. During the Daylight Saving Time months (second Sunday in March through the first Sunday in November) California is 3 hours ahead of Hawaii. During Standard Time months (November through March) California is 2 hours ahead. Thus, during Daylight Saving Time, when it's 8:00 a.m. in Kauai, it's 11:00 a.m. in California.
Hawaii does not change time during the year. In June, the sun sets around 7 p.m.; in January, it's around 6 p.m. This might help: in November if it's 8:00 a.m. in Hawaii, it's 10:00 a.m. in Los Angeles, 11:00 a.m. in Denver, 12:00 noon in Dallas, 1:00 p.m. in New York, and 6:00 p.m. in London! In May those destination times would correspond to 7:00 a.m. Hawaii time.
What is "Hawaiian Time"?
The term refers to islanders' habit of arriving a little past the time expected, because they'll get there when they get there. Just cruise, no need to rush. Expect a slower pace on the islands: relax and enjoy. Hang loose!