Guest Comments about
The Cliffs at Princeville 7301
The Cliffs at Princeville 7301 has been our family's island home for over 30 years. The condo was severely damaged in 1993 by Hurricane Iniki. Repairs followed and it was back in use in about 18 months. However, in 1999-2000 the property was showing further signs of weather-wear, so a massive remodel and reconstruction project was undertaken. Today the buildings boast new roofs and siding, new cabinets, fixtures and flooring, and in every way are better than ever.
We have rented "by owner" for a long time. We care that our renters have a completely satisfying and happy experience, so we put a lot of energy into keeping the unit in excellent repair with attractive furnishings and appointments.
What Some of our Guests Say About the Condo
Some of our past renters' guestbook comments will give you a feel for how these efforts have paid off, making this a place we can be proud to share with others.
---
A Couple from Pittsburgh PA writes: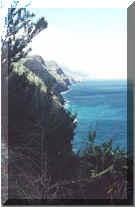 Originally somewhat disappointed that we weren't staying in a hotel, this was our first time in a condo. Now we love it and hate to leave! We loved the spaciousness...and the lanais were the best! Full moon over the ocean from the lanai – WOW! It went way beyond our expectations. Thanks for thinking of everything needed in a condo.
---
A Family of Four from California writes:
Your condo is beautiful! We loved the design – so airy and filled with light. Everything we could ever need. We had many a great meal cooking fresh fish on the BarBQ and eating on the deck. We saw whales out the windows of the unit – first spouting sprays that hung in the air, then they breached and the water and arches of spray went at least 20 feet high....The best end to a perfect vacation was sitting down at Hanalei Pier and watching the sunset with all the layers of wispy, orange clouds and the turquoise sky. Never have we seen anything so beautiful! Mahalo!
---
And from a honeymoon couple this comment: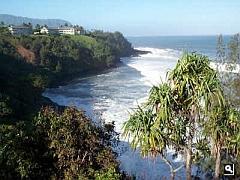 My first reaction was "What a fantastic view!" I appreciate the way your condo brings the outdoors in. We enjoyed the mauka lanai in the morning and the lanai on the makai side at sunset.
Also, thanks for equipping the condo so well. We mostly ate at home, so we really appreciated the kitchen set-up.
What else did we do? Well, like several others in your guestbook, we are honeymooning!
---
A familty from Canada writes:
Let me just start by saying Mahalo for letting us use your breathtaking spot. What a way to start our 2 week adventure in Hawaii.
I can't say enough about The Cliffs and your unit in particular. We paid roughly the same amount for a place about ⅓ the size in Oahu. Anyway we made the best of that and had a great time over there too. Kuaii is my favorite though by far and the North Shore is the best part of the Island. Now if the road would only go all the way around(haha)!! What a location Hanelei Bay was probably my favorite beach on the whole trip, although there are some amazing beaches in Oahu as well. Anyway loved the town of Hanelei as well, the Napali Coast was gorgeous (did a Catamaran tour) the Caves were cool, the Lighthouse was spectacular and the Canyon – wow what an amazing hike. We absolutely loved it all and wish we could return tomorrow. Reality check! At least the memories will last forever.
---
And lots more...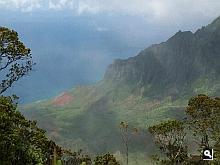 From Provo, Utah – We love this place! What a fun condo to stay in. Thanks so much for sharing your beautiful apartment with us!!
---
From California - Su casa es nuestra casa! Well, at least we feel that way! We really enjoy the convenience, the comfort, and the ambiance of your home. This is our second stay and hopefully will be far from the last!
---
From California - Your lovely home is so warm and comfortable. I loved sitting on the lanai listening to the ocean, watching the sea, feeling the tradewinds, and enjoying the nene's, cardinals, and myna birds. Hate to leave!
---
From California - Thank you Mary and Joel for another magical vacation in your island home. It has been three years since we were here last and we have been dreaming of coming back ever since. Our daughter is six now, and she enjoyed it even more than last time. She especially loved the remodeled swimming pool! We will be looking forward to visiting again as soon as we can!
---
From Virginia - Fifteen days in Heaven - who could not love Kauai? Since 1987 we have been coming to this beautiful island, but this visit has been special. We have enjoyed your warm home, the whales and birds entertained us, as did two egrets who guarded an undisclosed nest while they challenged the man cutting the grass! We pray that we can return to this little piece of heaven.
---
From New York - Came from cold and snow in New York to stay with friends at your beautiful condo. Loved my long morning walks and whale-watching from your lanai while having a late breakfast. I am sad to leave your lovely place on Kauai. I know we will be drawn back here in the future. Mahalo!
---
From San Diego, CA – We arrived on a day with a massive rain and thunder and lightening storm, but we felt safe, dry and cozy. This unit is just wonderful – the view, sunrise, and spaciousness! We'll be back!
---
From Glastonbury, Connecticut – We are very glad we found this wonderful condo. Thanks Mary. Everything here is very comfortable and clean. Views are outstanding and the breeze is wonderful! We will definitely come back!
---
From Singapore – This was our first time to Kauai (Hawaii, as a matter of fact). Everything was great! This condo was really impressive, and a big factor in the enjoyment was the coming "home" – thank you (Mahalo) to the Mellemas for letting us stay here.
---
From San Diego, CA – 5 adults and 1 child stayed here very comfortably, part of a large family who came over for a wedding, some others stayed in Cliffs units as well. But none had as good a unit as this! (Not even the bride and groom!) We marveled at the views of both ocean and mountain....
---
From Pleasant Hill, CA – What an absolutely perfect location at The Cliffs. We have never had both Mountain and Ocean Views from the kitchen and lanai! Plus the view of Bali Hai and mountains from the bedroom. It was especially nice to wake up each day to the sunrise from the living room window and watch the sunset from the bedroom lanai when we were here. Thanks again – I hope we can come back and rent again! Mahalo!
---
Some honeymooners from Portsmouth, NH – This was a very pleasant second leg of our honeymoon. We were very impressed with our accommodations here. Absolutely everything we needed was here in the condo. It was clean and comfortable and was truly home after being here for a week!
---
A honeymooning couple from Oahu – We didn't expect all this. The condo was so huge and the view from the balcony so beautiful. We loved everything and we really enjoyed ourselves. Thank you for the use of your beautiful island home. God bless you all!
---
And visitors from South Africa wrote – This was the 4th week of our month-long holiday in California and Hawaii, and what a great way to end this trip. Your condo is great and impressed us as clearly the best in our month away from home. The beaches, water and sea life were what we had dreamed of... and the backdrops of tropical mountains were stunning. Thank you!
---
More guest comments can be seen on our VRBO page.
---
If you'd like to experience this magical place, contact us using the booking link.